The clan gathered at The Bridge Hotel, Rozelle for the 7th Australian Road Crew Association – ARCA Reunion on Sunday 26th March….
a lot of old and new friends just supporting and laughing with each other….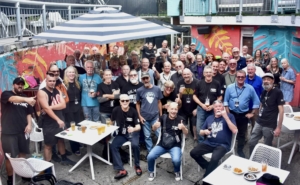 Big hugs to those that couldn't make it.
We all love you and you are always in our thoughts.
Tears, Cheers & Beers flowed freely….
A big shout out to Federal Minister for the Arts & Employment, Tony Burke for dropping by and showing his support for us…. absolute legend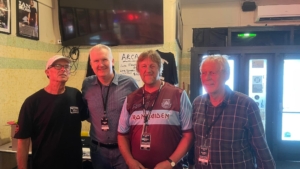 Huge thanx to Dick Keogh, Jen and all the staff at the Bridge for supporting us and having a great day.
Also thanx to Streaky for organising, Phil and Liz Dunesky for getting the meat and rolls that everyone devoured, Chyna for cooking and to those that came from interstate. Special thanx to Annie and Denise for keeping us roadies honest and running the door. Great job girls.
An awesome day with a lot of emotion.
It was great to see those that have never been to a reunion before, those that couldn't remember going to a reunion before and those, like me, that can't remember Jack…LMAO
ReunionT- Shirts are still available for purchase and they look great. Please email Streaky your T-Shirt Size and it will be sorted.
$30 plus $10 for postage and handling. We know Streaky will handle them gently.
Contact :
Paul "Streaky" Hawkes
streaksville1@gmail.com
Long Live the Crew..🤘🤘🤘
"It has been said that "everlasting friends" go long periods of time without speaking and never question their friendship.
These friends pick up the phone like they just spoke yesterday, regardless of how long it has been or how far away they live, they don't hold grudges.
They understand that life is busy and you will always love them"
We are "Roadies"
https://australianroadcrew.com.au/wp-content/uploads/2023/04/338398827_1564655594055944_4668152098195919585_n.jpg
1262
2048
Ian Peel
https://australianroadcrew.com.au/wp-content/uploads/2021/08/logo_v5.jpg
Ian Peel
2023-04-04 01:09:19
2023-04-04 03:54:11
7th ARCA Reunion 26-03-23