Mixdown Magazine
Mixdown Magazine related: "Federal arts minister Tony Burke continues to keep his ear on the music industry when facilitating its revival.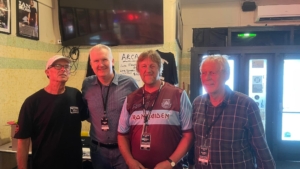 "We spotted him at the Sydney reunion of roadies organised by the Australian Road Crew Association, which pitched to him, among other things, federal help to provide legal and medical aid for members, its impending alliance with war vets (many crews served in the forces) and an aged care home for music industry workers to finish off their lives "with their own kind.
How COVID Affected Crews In Victoria
How badly did COVID hit the employment and wellbeing of crews and others in the live sector?
Just released by Music Victoria is the third Victorian Live Music Census which gives researched figures on its impact in 2020 and 2021.
It doesn't give a specific breakdown for crews. But read between the lines as to how bad things got.
69% of event revenue were lost in 2021 and 2021, 75% of Victorian events cancelled/ postponed or re-scheduled, 73% of casual and part-time event/venue jobs were lost, and performers lost 72% of their income.
66% of venue/event managers and 77%of performers found their mental health affected.
49%of venue/event managers considered leaving the industry. 46%  of performers felt the same way.
In 2020/ 21, festivals made up 1,059 of the equivalent of full time jobs (down 65% from before COVID), concerts made up 642 such jobs (down 63%) and small venues hired 2,802 which was a sharp 75% decline.
Despite the decline, Melbourne remained the live music capital of the world, with one live venue per 8,785 inhabitants.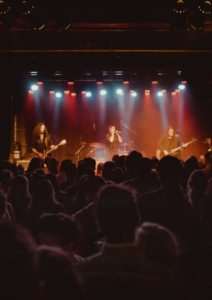 Gershwin Room
This was well ahead of London (one per 10,500), Sydney (one per 11,200), San Francisco (one per 14,400) and Austin (one per 16,600).
Study On Treating Depression, Anxiety, In Road Warriors
A new U.S. study reports on how crew, techs and musicians can better battle the high stress, depression and suicide tendency they feel on long hours on the road and erratic sleep patterns.
The study, conducted in early 2020 online and released last month, was by Zachary Bergson of the Ferkauf Graduate School of Psychology at Yeshiva University in New York.
Bergson says meditation, yoga, body scanning and breathing exercises help.
These cannot stop people from experiencing stress, but they "can help dampen the effect."
Another, earlier, report on those working on the road had smart ideas about eating healthy.
Of those involved in the study, 80.0% indicated eating healthful food was important to them.
They felt confident about selecting (76.5%) and preparing (82.4%) healthy foods.
But they were divided on whether carbohydrate-containing foods should be eaten or avoided.
Those in the study complained that it wasn't easy to eat healthy food when they were on the road, with reasons including availability and cost of healthy food options and tour schedules limiting access to when these could be eaten.
They called for more information in mobile wellbeing services on healthy eating on tour.
73% indicated music venues could do more to provide more healthy options.
Similarly 67.6% believed fast food restaurants could do more as could airports (64.7%) while 52.9% thought more support from the rest of the touring party would help them make healthier food choices.
Colin Hay Getting Outstanding Services Award
ARCA is always pleased when a musician who contributed generously towards our Desk Tape Series is honoured by others in the music industry.
Colin Hay was among Men At Work members who in 2020 allowed us to release their Live At Christchurch Town Hall 1982 through our Black Box Records and make money for Support Act's Roadies Fund.
At the APRA Music Awards on Thursday 27 April at ICC Sydney, Colin will be given the Ted Albert Award for Outstanding Services To Australian Music.
After selling 30 million records with MAW, Colin continues to tour solo and with Ringo Starr.
Also getting an award is Australian promoter Colleen Ironside who became a legend in Asia for taking superstars into the region.